The Washington, D.C. area is home to several beautiful suburban communities full of charm and culture, including
Potomac
,
Chevy Chase
, and
Bethesda
, Maryland. Of course, if you're looking to sell your elegant home in this region, you'll want to make sure it's staged to perfection! A well-staged home will "wow" buyers and helps you get the highest offers possible. Read on for helpful tips for staging your home to shine in all its glory.
Before we begin - what is staging, and why should you do it?
Home staging is the process of showing each room in its best possible light. Staging involves removing clutter and personal items from the space, deep cleaning everything, and arranging furniture and decor to make each room as aesthetically pleasing as possible for most buyers (and for photos!).
Why
should you do it? Simple! Staging can help your home sell faster and for more money than unstaged homes in your area. A well-staged space will help your home stand out above the other competing properties in the area, such as Chevy Chase, MD homes for sale. Now that we've answered that question let's get into our tips!
Top staging tips
Main Bedroom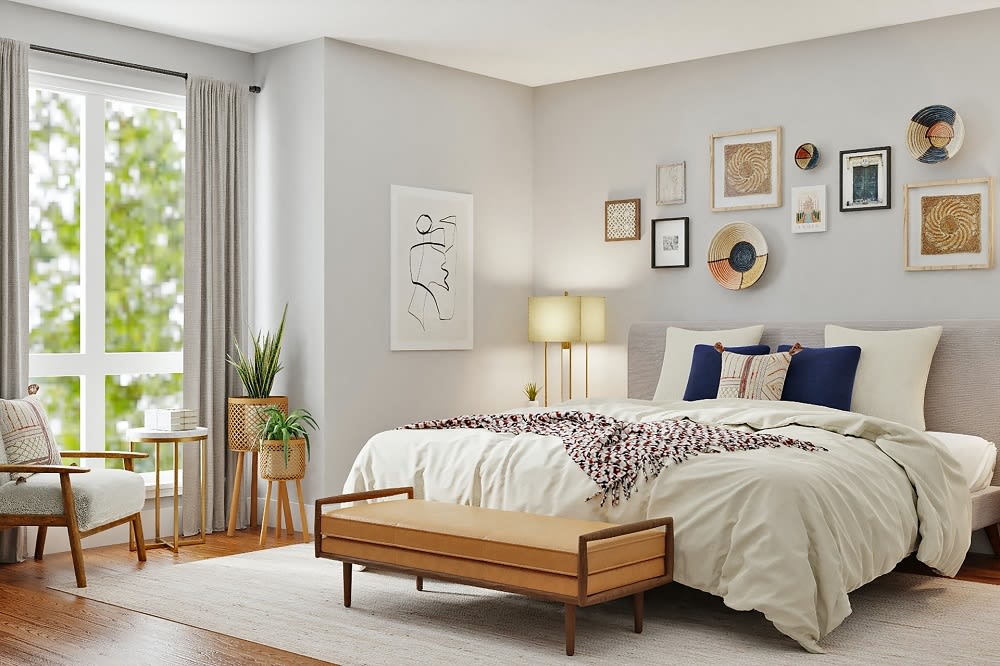 The primary
bedroom
should be a haven for buyers — a place where they can imagine themselves relaxing after a long day. You want this to be a place of luxury, tranquility, and comfort. To achieve this, we recommend you:
Choose calming, neutral colors for the walls and bedding

Remove all personal items from the room

Add a statement piece of artwork like a painting or photograph

Arrange the furniture in a way that makes the room feel open and spacious

Declutter surfaces like nightstands and dressers

Make sure the bed is made with crisp, clean linens

Add some plants or fresh flowers for a pop of color
By following these simple tips, you'll be sure to impress buyers with your main bedroom and make them truly feel at home.
Guest Room
For secondary and guest bedrooms in Bethesda real estate, Chevy Chase MD homes for sale, or Potomac homes for sale, you'll want to follow similar staging tips as in the primary bedroom. However, you may consider adding a few extra touches to make these rooms feel warm and inviting for your guests. For example:
Add a throw blanket and pillows to the bed

Place a basket of magazines or books on the nightstand

Hang some unique artwork on the walls

Add a vase of fresh flowers

Highlight storage for extra linens and clothing
When you stage your secondary bedrooms like this, you'll make buyers feel at home in your guest room!
Kid's Room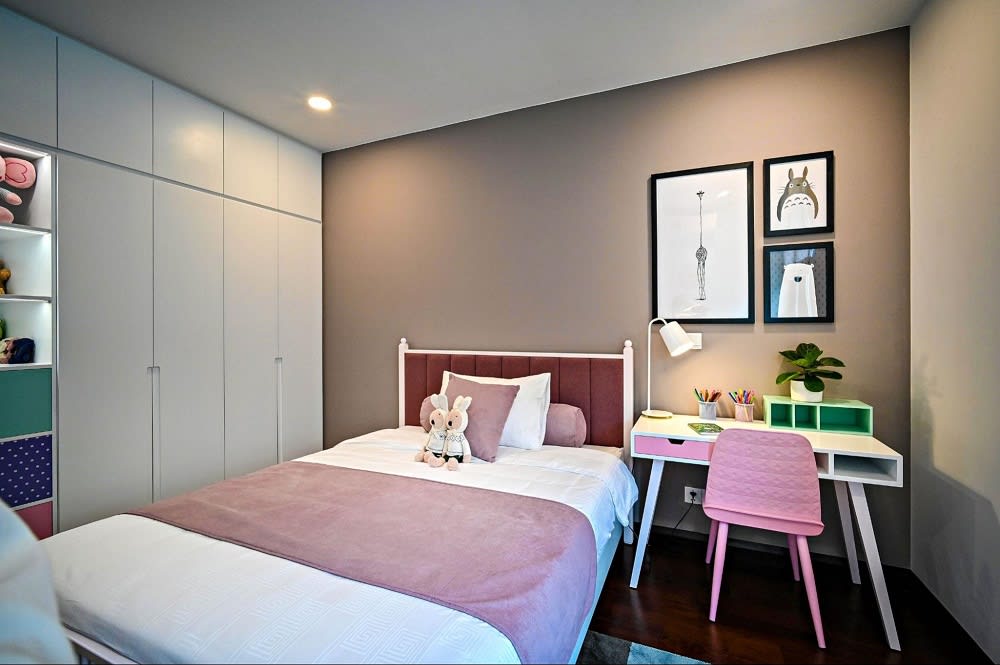 A
kid's room
should be fun, inviting, uncluttered, and ready for new adventures and memories. Here are some tips to achieve this:
Choose bright colors for the walls and bedding

Add some fun wall decals or artwork

Arrange the furniture in a way that makes the room feel open and spacious

Declutter surfaces like dressers and bedside tables

Ensure the floor is clean and clear of toys and games

Showcase storage for toys, games, and books
By following these simple tips, you'll make buyers fall in love with your kid's room and imagine years of their kids growing up there.
Full Bathroom(s)
Full
bathrooms
should be sparkling clean, bright, and inviting. Here are some tips to make sure yours is up to par:
Remove all personal items from the countertops and shelves

Clean the sink, countertops, bathtub, shower, and toilet until they shine

Clean or replace the grout

Add color-coordinated fresh towels and linens

Arrange any decorative items in a pleasing manner

Add a plant or fresh flowers to bring in a natural element

Add a candle or room deodorizing spray for a pleasant scent

Make sure the trash bin is empty

Ensure the storage space for toiletries and linens is clean and organized
Buyers may also enjoy simple upgrades, such as a shower stereo system or a brand new shower curtain or door. Adding small touches can often make a huge difference in a buyer's overall impression of a space.
Half Bathroom(s)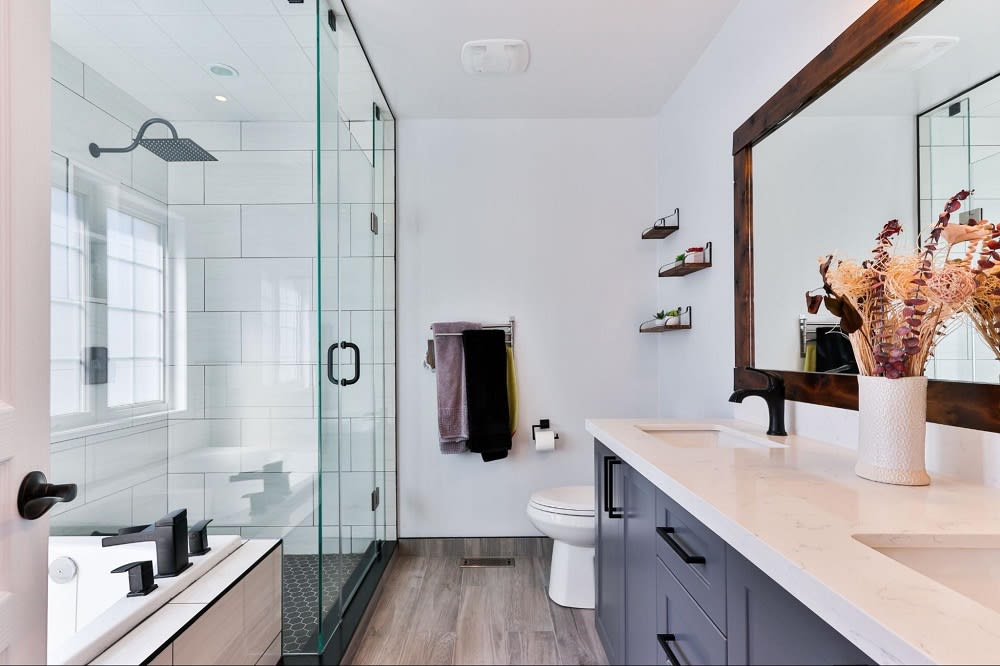 Like full bathrooms, half bathrooms should also be pristinely clean and ready for guests. To stage a half bathroom:
Clean the space thoroughly

Add fresh hand towels

Add high-end soap and lotion

Add a decorative item like a vase of flowers or scented candles
Following these simple tips will ensure buyers are impressed with your half bathroom and can imagine their guests being comfortable there.
Home Office
Buyers will likely expect their new home to have a dedicated office space perfect for working remotely, so you'll want to stage one in a way that makes buyers feel like they could get work done here. To do this:
Arrange the furniture to ensure the desk has access to natural, ambient, and focused lighting, so whoever is working there can be comfortable regardless of the time of day

Add a pop of color with artwork or an area rug

Ensure storage for office supplies is clean and organized

Declutter surfaces like the desk and shelves

Make sure the chair is comfortable and ergonomic

Ensure there are ample outlets for electronic devices

Put away personal items
When you stage this space in a professional and inviting aesthetic, buyers are sure to envision themselves working from home in your office.
Multi-Use Spaces
Buyers are often looking for homes that have shared spaces that are perfect for a variety of different activities. These could be guest rooms that double as a creative space for crafters or young artists, a home office that doubles as a guest room, or a playroom for the kids that also functions as an entertainment space for adults.
No matter your multi-use space, you'll want to stage it in a way that makes buyers feel like it could serve multiple purposes effectively and comfortably. Here are some tips:
Arrange the furniture in a way that makes the room feel open and uncluttered

Add storage for any items that need to be put away

Use area rugs and furniture to create a separation of functional space
Following these simple tips will ensure buyers can see the potential in your multi-use space!
Don't forget the exterior!
The exterior of your home is the first thing buyers will see, so you'll want to ensure it looks its best. Here are some tips so that your home puts its best foot forward:
Clean the gutters and downspouts

Pressure wash the siding and walkways

Wash all windows

Mow the lawn and trim the hedges

Plant flowers or add potted plants to the porch or entryway

Add outdoor furniture if there is space

Make sure the garage door is clean and in working order
When you take the time to focus on curb appeal, you'll make sure buyers are impressed from the moment they pull up to your home!
When you are hoping to put your home on the
market
, staging is paramount to ensuring that your space looks its best for buyers and has the best chance at high offers. When you are ready to sell your beloved home, reach out to trusted local agent
Dana Cruz
. With over 15 years of experience, Dana is ready to be the agent you can count on every step of the way. She looks forward to hearing from you and helping you navigate the Potomac, Chevy Chase, or Bethesda real estate market!